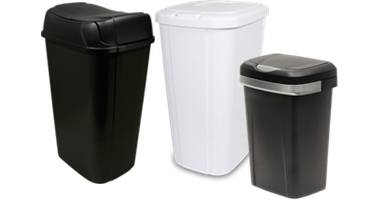 Hefty® Touch Lid Trash Cans
Hefty® Touch Lid Trash Cans come in a variety of easy, quick-touch lid styles that lock in odor and provide lasting durability. Available in various sizes.
Easy open lidded trash cans
Various sizes and styles
Sizes Available
13.5 gal Swing Lid
12.5 gal Hide-A-Bag
13.3 gal Glide Lid
13.3 gal Pivot Lid
11.3 gal Dual Swing
2.1 gal Swing Lid
Trash Bag Solutions
Get dependable strength for all your trash bag needs, from kitchen cleanup to yard work. Our products are sturdy, tear-resistant, and available in multiple sizes and scents.
Hefty® Sustainability
In addition to our landmark Hefty ReNew™ program, Hefty® recycled, recyclable, and compostable products can be found on store shelves across the U.S.