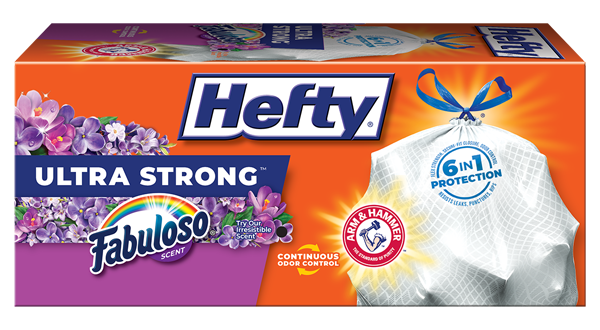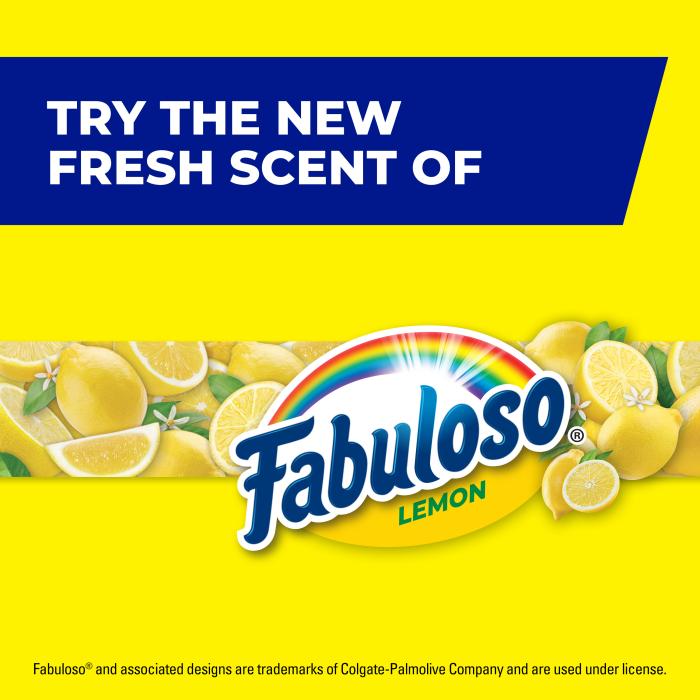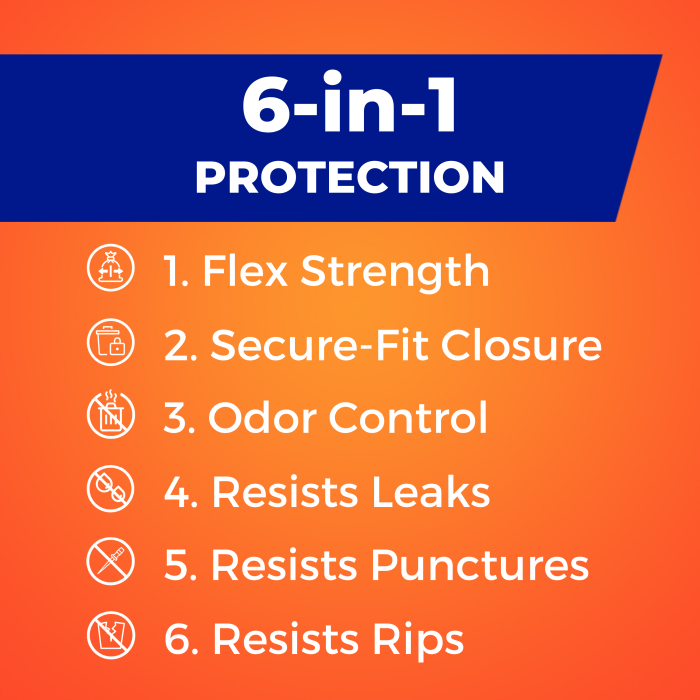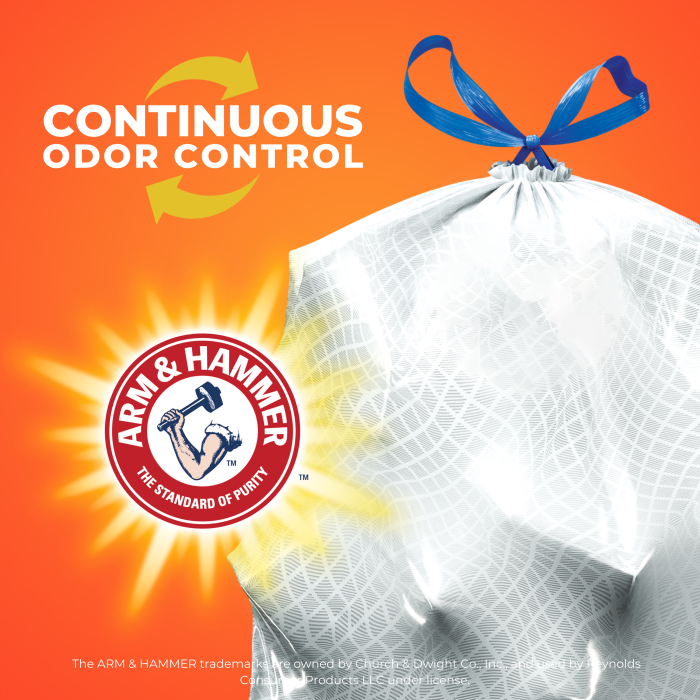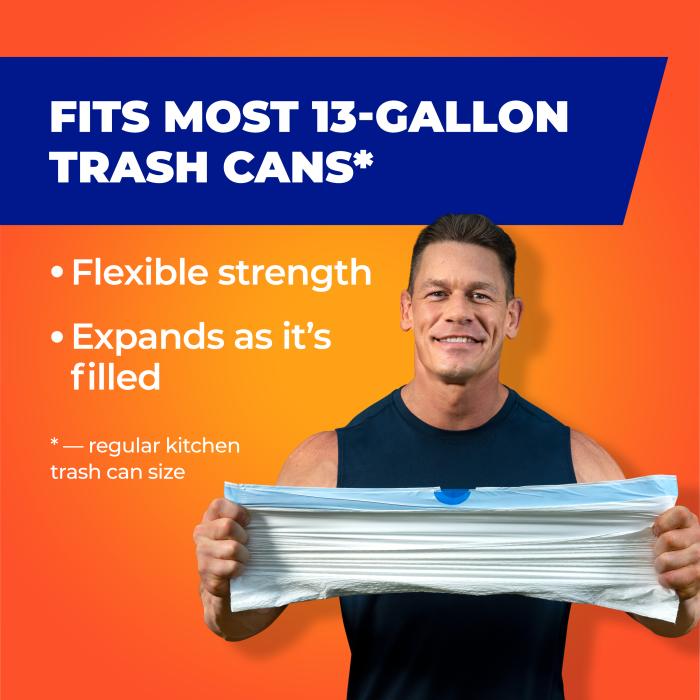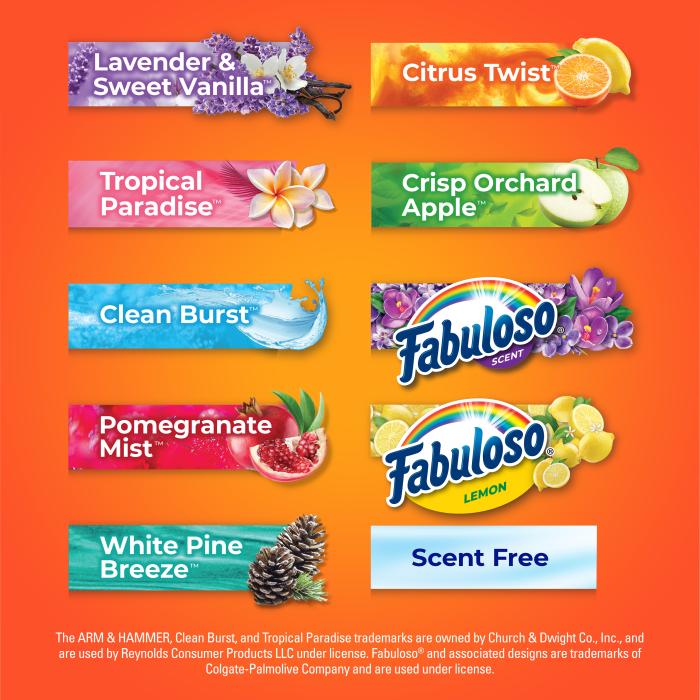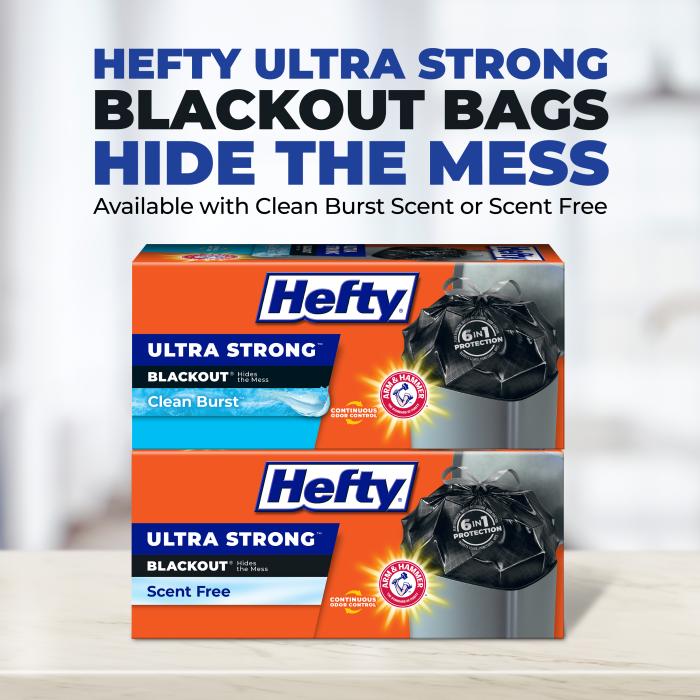 Hefty® Ultra Strong™ Kitchen Trash Bags
You do the cooking, and Hefty® Ultra Strong™ Drawstring Kitchen Trash Bags can help clean up. Lift the heftiest loads with active tear-resistant technology, while break-resistant grip drawstrings hold the bag in place. Neutralize nasty kitchen smells with patented Arm & Hammer™ odor neutralizer. Available in nine fresh scents and scent free. Also available in Blackout color, which feature either Scent Free or Clean Burst scent.
Ultra Strong™ 6-in-1 Protection
Arm & Hammer™ Continuous Odor Control
Flex Strength
Reliable drawstring closure
Resists Leaks, Punctures and Rips
Scents Available
Fabuloso® Lavender
Fabuloso® Lemon
Clean Burst™
Lavender & Sweet Vanilla™
Citrus Twist™
Crisp Orchard Apple™
White Pine Breeze™
Tropical Paradise™
Pomegranate Mist™
Recycle & Compost
Product: Bag should not be recycled, not compostable
Package: Box is recyclable, not compostable
*The ARM & HAMMER, Clean Burst, and Tropical Paradise trademarks are owned by Church & Dwight Co., Inc., and are used by Reynolds Consumer Products LLC under license.
**Fabuloso® and associated designs are trademarks of Colgate-Palmolive Company and are used under license.
Blackout bags available as Scent Free or Clean Burst scent.
Find The Right Trash Bag
Not sure which trash bag is up to the task at hand? Tell us more about what you need and we'll help you select the best Hefty® bag to get it done.
Hefty® Sustainability
In addition to our landmark Hefty ReNew™ program, Hefty® recycled, recyclable, and compostable products can be found on store shelves across the U.S.
Trash Cans & Home Storage
Put your trash bags to good use inside a durable trash can in a variety of styles and functions. Get organized with our stackable, durable storage bins.