Hefty® EnergyBag® Program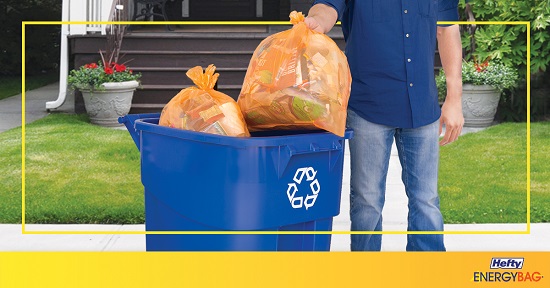 The Hefty® EnergyBag® program is a groundbreaking initiative that collects previously non-recycled plastics - like the candy wrappers and juice pouches you've always thrown away -  at curbside and converts them into valuable resources. 
The Hefty® EnergyBag® Program is a significant step towards achieving positive long-term environmental and economic advantages, including new alternative energy resources and fewer tons of plastics ending up in landfills.
How does the Hefty® EnergyBag® Program Work?
1. Put clean and dry non-recycled plastics in your Hefty® EnergyBag® orange bags. If you have any questions about what you can include in the bags, browse our FAQs.
2. When full, securely tie the bags.
3. Place the bags inside your recycling cart during your scheduled recycling pick up.
Where Can I Learn More?
Learn more about the Hefty® EnergyBag® program by reading through our FAQs and Press pages.
Collaborators
The Hefty® EnergyBag® program in Omaha is a collaborative effort between The Dow Chemical Company, Reynolds Consumer Products and First Star Recycling.
Contact Us
If you have specific questions about the program, click here to send us an email.