Hefty Joins How2Recycle Label Program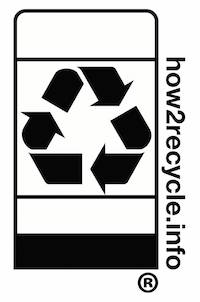 June 4, 2014 /3BL Media/ -Three new participants, Reynolds Consumer Products (Reynolds), Kimberly-Clark Corporation (Kimberly-Clark), and Hilex Poly Co. (Hilex) have joined the growing How2Recycle Label Program.
All three participants will begin by using the "Store Drop-off" version of the How2Recycle Label designed for plastic bags and wraps, playing a significant role in increasing awareness about the recyclability of plastic bags and wraps.
Reynolds Consumer Products will include the label on theirHefty® brand slider bags. Clean and dry food storage bags can be recycled at plastic bag collection points offered by many retailers. The paper boxes that the bags are packaged in can be recycled at most curbside and municipal paper recycling programs. Hefty® slider bag packages will be clearly labeled to reflect recycling instructions for both materials.
"Reynolds is pleased to be a part of the How2Recycle program, to help eliminate confusion over how and where everyday products, and the packaging they come in, can be recycled," said Sean Foster, vice president of innovation, Reynolds Consumer Products. "We hope that making this information clearer and more prominent encourages more of our consumers to participate in recycling practices. We look forward to adding it to more of our products over time."
Kimberly-Clark will initially add the label to their Scott Naturals Tube-Free bath tissue flexible film packages. Kimberly-Clark estimates that over 17 billion toilet paper tubes are used each year in the U.S. alone. Scott Naturals Tube-Free bath tissue gives consumers the bath tissue they expect without the tube. Additionally, Scott Naturals paper products (bath tissue, paper towels and flushable cleansing clothes) are each made with at least 20 percent recycled materials in products or packaging. In the coming months, Scott Naturals brand and other Kimberly-Clark consumer and professional brands will add the label to packaging where appropriate.
"We understand the importance of applying life-cycle thinking - from sourcing to disposal – as we strive to minimize the environmental impact of our products and packaging," said Lisa Morden, senior director of sustainability at Kimberly-Clark. "In addition to pursuing responsible sourcing of the raw materials, we must also consider how product and packaging materials are managed after use. We will continue to look for solutions via the partnership with GreenBlue's Sustainable Packaging Coalition to help us take the right steps in helping consumers realize value-added alternatives to landfilling packaging waste."
Hilex Poly will use the Store Drop-off Label on a variety of theirflexible plastic (#2 HDPE and #4 LDPE) packaging products, including the well-known "Thank You" carry-out bag that retail customers have grown accustomed to. Hilex is an industry leading manufacturer and recycler of plastic bag and film products, and its retailer collector program,Bag-2-Bag, enables people to drop off their used plastic bags, sacks, and wrap into bins at local stores that are picked up and recycled into new bags and other products. In 2013, Hilex Poly recycled more than 35 million pounds of post-consumer plastic bags, sacks, and wraps.
"Hilex thanks GreenBlue for leading the way on sustainability, a cause that our company places as our utmost priority," said Phil Rozenski, director of marketing and sustainability at Hilex. "We look forward to joining other leading companies such as Kimberly-Clark and Reynolds on this important initiative."
Hilex's customers, Kimberly-Clark, and Reynolds all have received a sponsorship for the How2Recycle license fee through the American Chemistry Council's Flexible Films Recycling Group (FFRG). The FFRG is working to significantly increase the collection and recycling of all flexible films and to educate the public about the importance of recycling. FFRG members include the entire polyethylene (PE) film value chain, including major resin suppliers, manufacturers, brand owners and recyclers.
Consumers can visit how2recycle.info andwww.plasticfilmrecycling.orgto find drop-off recycling locations. Typical plastic products that can be recycled at store drop-off include clean and dry film wraps, newspaper bags, dry cleaning bags, and plastic carryout bags. While plastic bag bans become more popular in cities across the U.S., it is important to retain this important collection mechanism as retailers and E-commerce channels put many types of recyclable bags, wraps, and other films into consumers' hands.