Hefty® Amazon Dash Button Now Available!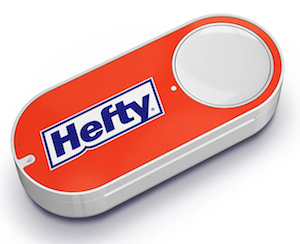 The Hefty® brand is now a part of the Amazon Dash program… an innovative new device that allows you to connect a branded button to your Amazon.com Prime account via your home wireless network. Put the button in a handy spot … and just press to re-order your favorite Hefty® trash bag or food bags!
The feature also sends an email that confirms the order and safeguards against multiple accidental orders.
We are pleased to "test-and-learn" as new technology emerges that makes it easier for customers to find and purchase our products, both on-line and in stores.
Click to see the new Hefty® Dash Button on the Amazon site – here's a list of the Hefty® trash and food bags that can easily set up for re-order.